5 Factors to Consider for Getting a Master Degree in Singapore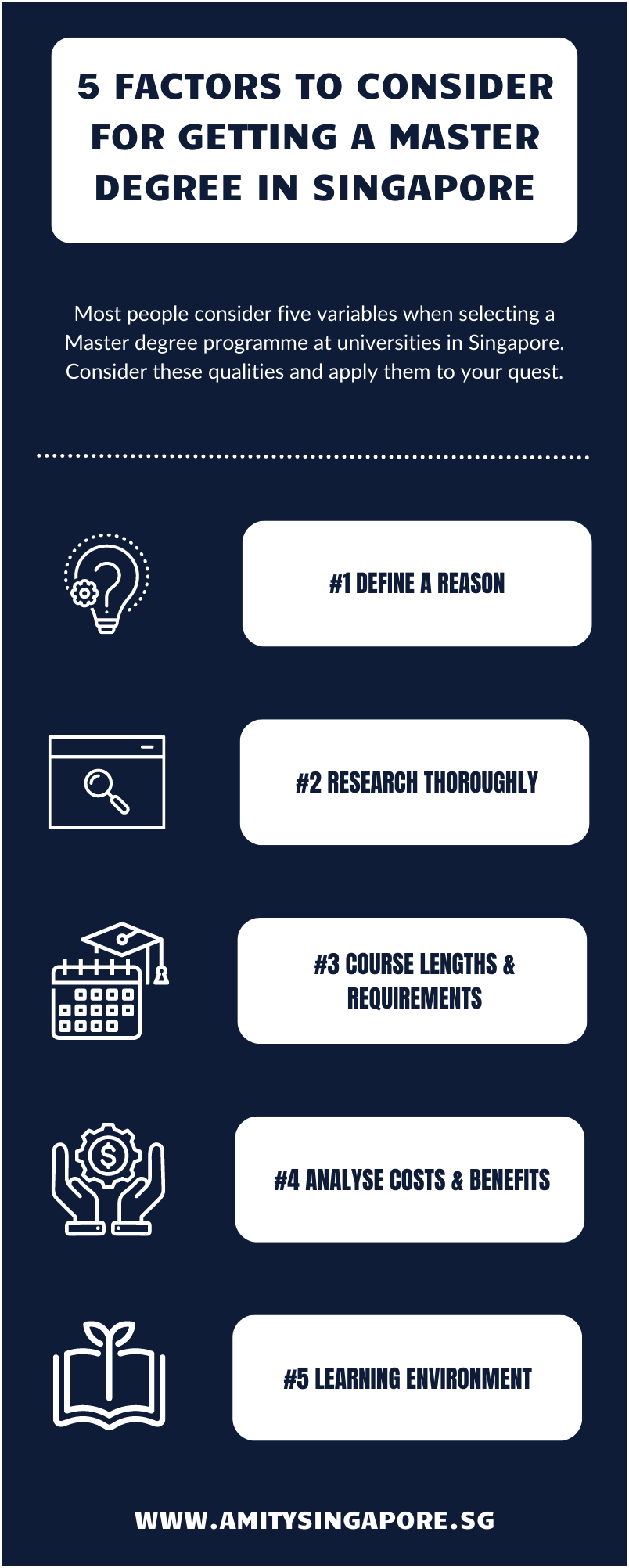 Most people consider five variables when selecting a Master degree programme at universities in Singapore. Consider these qualities and apply them to your quest.
#1 Define a Reason
Align your educational objectives with your professional ones. Try not to consider what others might do or what would look good on your CV. Express your goals, what interests you about expanding your profession, and any concerns about enrolling in a Master degree programme in Singapore.
#2 Research Thoroughly
Investigate possible programmes of interest and collect data on various areas of the degree programme. Examine schools based on curriculum, student feedback, and university or department reputation. Some institutions serve as extensions of the best universities in the UK, like the University of London, in Singapore. Graduating from these institutions will offer you a globally-honoured diploma from said universities.
#3 Course Lengths & Requirements
Some Master degree programmes require the completion of specific courses in undergraduate programmes. Make a chronology for your personal and professional lives to determine what coursework you can fit in. Look for an institution that provides part time Master degree programmes in Singapore if you have to juggle studying and working.
#4 Analyse Costs & Benefits
Master degree programmes in Singapore are not cheap, and each professional must decide if it is worthwhile for them to attend. Make a budget based on the top five colleges and programmes you are considering. After creating your budget, look into the predicted salary and job growth for the jobs you want to pursue.
#5 Learning Environment
Many graduate programmes are now available online or as in-person/online hybrids. Assess your present needs in light of your personal and professional obligations. You might want to look into class sizes, campus proximity to your home, schedule and flexibility of the Master degree programme in the university in Singapore.
Amity Global Institute has talented academics and corporate professionals with deep industry knowledge. They serve as an extension to top UK institutions like the University of Northampton. Visit their website to discover more about their cybersecurity, Master's degree and data science courses for interested students in Singapore.