Practical Tips to Work in Australia after Completing Your Studies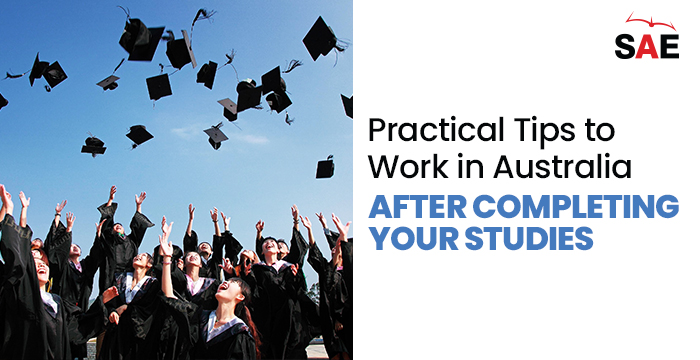 Are you ready to start a career in Australia? Do you want to gain Australian work experience? If yes, you have come to the right place. 
It's no surprise that Australia is a leading education destination. With a dynamic economy, cultural diversity, low employment rate, and high living standards, Australia is a land of opportunities for foreign nationals seeking a new life abroad. 
Having an Australian student visa can open the doors of prosperity and growth for anyone. Many Australia student visa holders want to work in Australia after completing their studies. International students in Australia can work for up to 20 hours per week during the academic year. There is no restriction on the number of working hours during recognized school vacations. Recently, the Department of Home Affairs gave temporary relaxation to international students in terms of working hours to address labor shortages in Australia. Under the current relaxations, students can work over 40 hours a fortnight across various sectors.
Keep the below tips in mind while searching for a job in Australia and expand your professional network.
Learn about the job market
Australia has a very robust and competitive job market; therefore, your chances of landing a job depend on your skills, education, domain, and city. Your work experience in Australia will go in vain if it is not related to your qualifications and chosen occupation. It is imperative to gain some local knowledge to boost your chances of employability in Australia.
There are many ways to search for a job that aligns with your professional goals:
Online job portals

Social media platforms

Recruitment agencies

Notice boards on campuses, community centers, malls, etc.
Applying for a job
Applying for a job requires preparing a professional resume and a cover letter showcasing your interests and suitability for a job role. You must ensure that your application is well-prepared and have relevant skills, academic background, and a sound understanding of the advertised role. Tailor your resume for each job vacancy to increase your chances of landing a dream job. Once you get the job, provide your employer with your bank account details, tax file number, and superannuation details. 
Qualifications Recognition
If you are a newcomer in Australia, you must get your qualification assessed by a designated body. Many organizations provide a positive assessment of overseas qualifications in Australia. The process is critical to finding a job or planning to study in Australia. 
Volunteer Work
Volunteering is one of the best ways to expand your network and interact with new people in Australia. You can opt for volunteering while waiting for a job offer. It also goes a long way in building your professional network as you meet people from varied backgrounds who can refer you to new jobs based on your interests and job profile. You can visit The Australian Volunteer Program and GoVolunteer websites to learn more.  
Intending to provide the best visa services to students planning to study abroad, Abhinav Immigration Services is a leading immigration consultant with a strong presence in Pan India. Over the years, we have guided many students in choosing the right study destination. Our team makes the enrolment process easy for them through high-quality services, documentation, IELTS training, and more. We are experts at assisting students in taking admissions in the USA, UK, Canada, New Zealand, Australia, and Europe.
With the help of overseas education consultants you can realise all your study abroad dreams. To know more get in touch with our certified immigration consultants by ringing us at +91 8595338595 or mail us at web@studyabroadexpert.com